We want to congratulate Liz Charity, founder of YCI, for taking and completing Clark Construction's Strategic Partnership Program.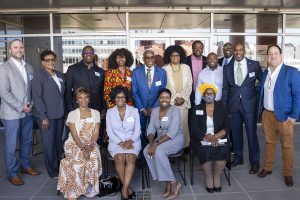 The completion of this program marks another step in YCI's journey toward saving the youth by providing essential training and services to at-risk youths. YCI's Eric Wickenhouser, a board member, will be leading YCI in all things construction. We have plans to deliver a curriculum to participating correctional facilities in order to train youth in the art of building. Career paths abound and there is a strong need for tradespeople in this current day and age. YCI is here to create jobs and job-ready individuals.

YCI and Clark's Construction do not have an active partnership. This write-up celebrates our founder's completion of Clark's Construction Strategic Partnership Program and should not be misconstrued as an actual partnership between the two parties.
From Clark's Construction:
Our commitment to small businesses extends beyond any contracting goal. For more than a decade, Clark has invested in the growth and development of small businesses nationwide through our Strategic Partnership Program – an executive education course designed to give small business owners a solid foundation for smart, sustainable growth. Since its inception, nearly 1,200 entrepreneurs and business leaders have completed the program nationwide, opening the doors to greater economic opportunity while strengthening our industry and communities.